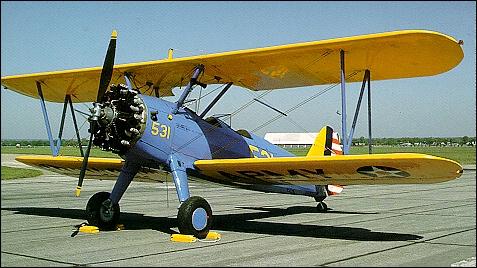 STEARMAN PT-13D "KAYDET"
Primary Trainer
The PT-13 was typical of the biplane primary trainer used during the late 1930s and WW II. Whereas it was powered by a Lycoming engine, the same airplane with a Continental engine was designated the PT-17, and with a Jacobs engine, the PT-18. A later version which featured a cockpit canopy was designated the PT-27. Of 10,346 Kaydets ordered for the U.S. and its Allies, 2,141 were PT-13s for the AAF. Following WW II, the Kaydet was phased out in favor of more modern trainers. The PT-13D on display, donated in 1959 by the Boeing Airplane Company (which purchased the Stearman Company in 1938), was the last Kaydet produced.
SPECIFICATIONS
Span: 32 ft. 2 in.
Length: 24 ft. 10 in.
Height: 9 ft. 2 in.
Weight: 2,717 lbs. loaded
Armament: None
Engine: Lycoming R-680 of 220 hp..
Cost: $11,000
PERFORMANCE
Maximum speed: 125 mph.
Cruising speed: 104 mph.
Range: 450 miles
Service Ceiling: 14,000 ft.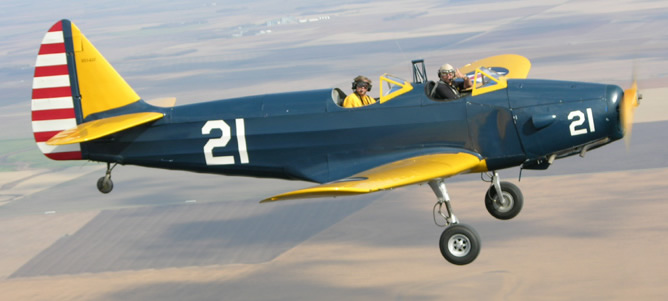 FAIRCHILD PT-19A "CORNELL"
Primary Trainer
The PT-19 developed by Fairchild in 1938 to satisfy a military requirement for a rugged monoplane primary trainer, was ordered into quantity production in 1940. In addition to being manufactured by Fairchild during WW II, the "Cornell" was produced in the U.S. by the Aeronca, Howard and St. Louis Aircraft Corporations and in Canada by Fleet Aircraft, Ltd. Some Cornells were powered by Continental radial engines and designated PT-23s, while others were produced with cockpit canopies and designated PT-26s. Altogether, 7,742 Cornells were manufactured for the AAF, with 4,889 of them being PT-19s. Additional Cornells were supplied to Canada, Norway, Brazil, Ecuador and Chile. The PT-19A on display was donated to the Air Force Museum in November 1984 by Mr. Howard Phillips, Seattle, Washington.
SPECIFICATIONS
Span: 35 ft. 11 3/16 in.
Length: 27 ft. 8 3/8 in.
Height: 7 ft. 9 in.
Weight: 2,450 lbs. loaded
Armament: None
Engine: Ranger L-440 of 175 hp.
PERFORMANCE
Maximum speed: 124 mph.
Cruising speed: 106 mph.
Range: 480 miles
Service Ceiling: 16,000 ft.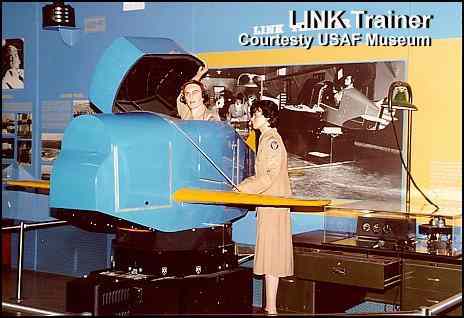 LINK TRAINER
OK, it's not really a plane, but this invaluable piece of equipment is included because it was an important "LINK" in training. The link trainer pictured is model C-3, which is the type used during WW II for teaching all pilots proper procedures of instrument flight, such as using a radio range for determining an airplane's position in bad weather and a subsequent let-down to a field for landing. The Link was mounted on a base which permitted the trainer to turn, tilt and bounce as the instructor (who sat at a desk outside the trainer) created rough air and put the pilot through simulated flight conditions. An operator sat at the desk and transmitted radio signals which the "pilot" in the link heard though his ear phones. The pilot "flew" the link through various turns, climbs, and descents, and the link's "course" was traced in red ink by the remote "bug" on a map on the table. After a flight was completed, the pilot could study the red-line course to determine what he might have done incorrectly. There was no AIR CONDITIONING in these trainers...and on a hot west Texas day, it got pretty hot inside this 'box'. Many a young trainee almost crashed and burned--not from lack of flying skills, but from the heat!Today, we use computers!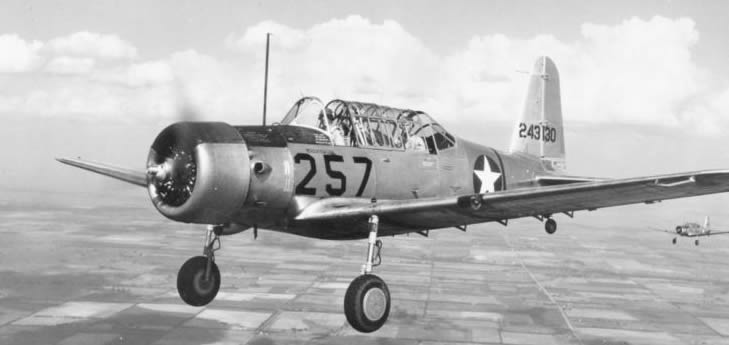 VULTEE BT-13B "VALIANT"
BASIC TRAINER
The "Valiant" was the basic trainer most widely used by the USAAF during WW II. It represented the second of the three stages of pilot training--primary, basic and advanced. Compared with the primary trainers in use at the time, it was considerably more complex. The BT-13 not only had a more powerful engine, it was also faster and heavier. In addition, it required the student pilot to use two-way radio communications with the ground, operate landing flaps and a two-position variable pitch propeller. Nicknamed the "Vibrator" by the pilots who flew it, the BT-13 was powered by a Pratt & Whitney R-985 engine. But to counter the shortage of these engines early in the BT-13 production program, 1,693 Valiants were produced in 1941-2 with a Wright R-975 engine and were designated as BT-15s. By the end of WW II, 10,375 BT-13s and BT-15s had been accepted by the AAF. The BT-13 on display, one of 1,775 -Bs built, was acquired from Mr. Raymond Brandly of West Carrollton, Ohio in 1965.
SPECIFICATIONS
Span: 42 ft. 2 in.
Length: 28 ft. 8 1/2 in.
Height: 12 ft. 4 3/4 in.
Weight: 4,227 lbs. loaded
Armament: None
Engine: Pratt & Whitney R-985 of 450 hp.
Crew: Two (instructor & student)
Cost: $20,000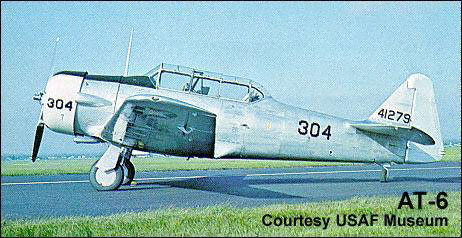 NORTH AMERICAN T-6G "TEXAN"
ADVANCED TRAINER
The AT-6 advanced trainer was one of the most widely used aircraft in history. Evolving from the BC-1 basic combat trainer ordered in 1937, 15,495 Texans were built between 1938 and 1945. The USAAF procured 10,057 AT-6s; others went to the Navy as SNJs and to more than 30 Allied nations. Most AAF fighter pilots trained in AT-6s prior to graduation from flying school. Many of the "Spitfire" and "Hurricane" pilots in the Battle of Britain trained in Canada in "Harvards," the British version of the AT-6. To comply with neutrality laws, U.S. built Harvards were flown north to the border and were pushed across. The aircraft in this photograph is on display at the USAF Museum and is one of 1,802 T-6s remanufactured under a 1949 USAF modernization program, redesignated as T-6Gs, and given new serial numbers. It was acquired from the Pennsylvania Air National Guard in 1957 and is painted as an AT-6 based at Randolph Field, Texas in 1942.
SPECIFICATIONS
Span: 42 ft.
Length: 29 ft. 6 in.
Height: 10 ft. 10 in.
Weight: 5,617 lbs. loaded
Armament: None (some AT-6s used for gunnery/bombing training)
Engine: Pratt & Whitney R-1340 of 600 hp.
Cost: $27,000
PERFORMANCE
Maximum speed: 210 mph.
Cruising speed: 145 mph.
Range: 770 miles
Service Ceiling: 23,200 ft.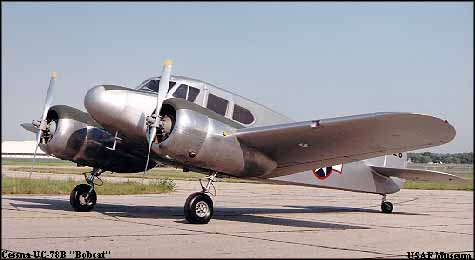 "THE BAMBOO BOMBER"
The UC-78 is a military version of the commercial Cessna T-50 light transport. Cessna first produced the wood and tubular steel, fabric covered T-50 in 1939 for the civilian market. In 1940, the Air Corps ordered them under the designation AT-8 as multi-engine advanced trainers. Thirty-three AT-8s were built for the Air Corps, and production continued under the designation AT-17 reflecting a change in equipment and engine types. In 1942, the AAF adopted the Bobcat as a light personnal transport and those delivered after January 1, 1943 were designated UC-78s. By the end of WW II, Cessna had produced more than 4,600 Bobcats for the AAF, 67 of which were transferred to the U.S. Navy as JRC-1s. In addition, 822 Bobcats had been produced for the Royal Canadian Air Force as Crane 1s. Dubbed the "Bamboo Bomber" by the pilots who flew them, it was one of the aircraft featured in the popular television series "Sky King" of the 1940s and '50s.
SPECIFICATIONS
Span: 41 ft. 11 in.
Length: 32 ft. 9 in.
Height: 9 ft. 11 in.
Weight: 5,700 lbs. max.
Armament: None
Engines: Two Jacobs R-755-9s of 245 hp. each
Cost: $31,000
Serial Number: 42-71626
C/N: 4322
Other Registrations: N43BB, N4403N PERFORMANCE
Maximum speed: 175 mph.
Cruising speed: 150 mph.
Range: 750 miles
Service Ceiling: 15,000 ft.
Special thanks to the AIR FORCE MUSEUM for allowing us to share some of their information! You can find more USAF history, planes and information by visiting their site:

home | arcade | gallery | video | records | resources | interact | shop | wings across america