CHARLYNE CREGER
WASP 44-W-10
b. Dec. 24, 1918, Noble, OK
d. Jan.1, 2005 Shreveport, LA
down-to-earth, honest, funny, independent, generous, opinionated, feisty, unique, funny, colorful, big-hearted, courageous, spunky, cantankerous, extraordinary, larger-than-life, patriotic, absolutely unforgettable
The first day of the new year, January 1, 2005, my friend, Charlyne Creger, died at 1:40am, just a week after her 86th birthday.
Her hip replacement surgery in November had kept her in the hospital, but she was making progress. After the surgery, her heart stopped, but they brought her back--and she chuckled when the nurses nicknamed her "Lazerina". Pneumonia was the final battle that her tired body just couldn't win, not with just one lung and not after everything else she had been thru.
It's important that Charlyne's story be shared with all of you who love the WASP and have helped with the WASP Museum. Of all the WASP, Charlyne was the first to step up and financially support the building of the WASP Museum, although she specified that the amount of her gift not be made public. She has been a constant cheerleader and encourager, and was looking forward to one day being one of the WASP who would place her 'gold' shovel in the dirt at Avenger Field, and 'break ground' for the WASP Museum. Her cheerful optimism and delightful words of encouragement are now forever silent. However, to me, she now has become something else--a shining symbol of why it is so important to build this museum now, before all the WASP are gone. . I know that, with God's help, nothing is impossible. So does
Charlyne.
---
She was born Rosa Charlyne Creger in Noble, Oklahoma to Charles and Rosa Creger on Dec. 24, 1918. Her father was a blacksmith and a Tennessee Bluegrass fiddler and her mother was born in Oklahoma Indian territory, back before houses, when there were hillside dugouts with animal skins over the door. Charlyne swore that there was a blizzard the night she was born, and her father fetched the doctor by saying, 'Doc, Rosa has the most bodacious belly ache you ever saw!' But the doctor knew better. Charlyne said they should have named her "Pork Rind! because her mamma had tasted a little too much pig the night before. Charlyne could tell you stories...lots of stories about the early days of Oklahoma, about flying, about the depression, about lots of things...and nobody could tell a story better than Charlyne.

Back in the early 1920's, the local newspaper announced that the famous Wiley Post would take passengers for a ride in his airplane for a penny a pound, or for a collection of bread wrappers. Charlyne didn't have the pennies, but she saved up bread wrappers from all over the neighborhood. When she got to the airfield, Wiley told her she was too little for the seat belt, so, Charlyne asked if her cousin could ride with her. Wiley said yes, and, thanks to her cousin sharing the seat belt, she got her very first airplane ride. That was when Charlyne became 'hooked on flying!
She was the 4th of 6 children, and she was very proud to call herself a trouble maker, jumping cotton bales and getting into all kinds of mischief. She got whooped a lot with a wooden paddle...but she also always left 'em laughing. She wouldn't have made it without her sense of humor...As Charlyne said, "A sense of humor carries you thru poverty or anything else...!" Course there was the time she soaked the pickle in the caster oil before she gave it to her teacher....then, when the teacher wanted another pickle--Charlyne told her she's used up all the castor oil...so she got whooped, but who could blame her...the teacher had already whooped her for talking back. "talking back? After her teacher said, the next one to say another word will get a whooping, all Charlyne said was, "What did you say?"
After she graduated high school in Norman, Oklahoma, she worked as a professional dancer for Catherine Duffy's Productions in Oklahoma City and then later became a professional model for Kickerknick Lingerie.
Then Pearl Harbor happened.
During WWII, she worked at Douglas Aircraft as a "Production Control Booth Expeditor" which, according to Charlyne, was just a fancy title that meant she counted the screws. She learned to fly in Norman, Oklahoma and had to get special permission to LEAVE her necessary war job to apply for WASP training. When the Douglass people told her 'no--that she was important to their production line', she told them that they either let her leave or she would quit, because whether they liked it or not, she was going to fly for her country.
Charlyne was a patriot.
She entered WASP training in 1944, and graduated as a member of the very last class of WASP to graduate:44-W-10. She was stationed at Waco Army Air Field as an engineering test pilot and, after the WASP were disbanded, worked as a salvage pilot and flight instructor, but, eventually, as Charlyne said, "I had to face reality, NOBODY wanted women pilots!" So, she made lemonade and reinvented herself, working at the Crippled Children's Hospital in OK City to assist the nurses, then completing nursing training at Houston's Herman Hospital followed by Shriner's Hospital in Shreveport and joined the USAF as a nurse in 1951, serving during the Korean War.
When she was 35, she applied for medical school but, she was told she would be taking a man's place and was refused admission. So, once again, she 'made lemonade ' and applied to go to London and study under the Queen's anesthesiologist. Eventually she became the Chief of the Anesthesia Dept. at the Earl K Long Hospital in Baton Rouge. According to Charlyne, "nothing is really impossible if you're serious...and you follow thru." Course, she also said, "I made a lot of lemonade."
In the course of an incredibly successful career, Charlyne managed to travel the world, making an incredible trip with many of the WASP to visit the "Night Witches" (the Russian women pilots of WWII).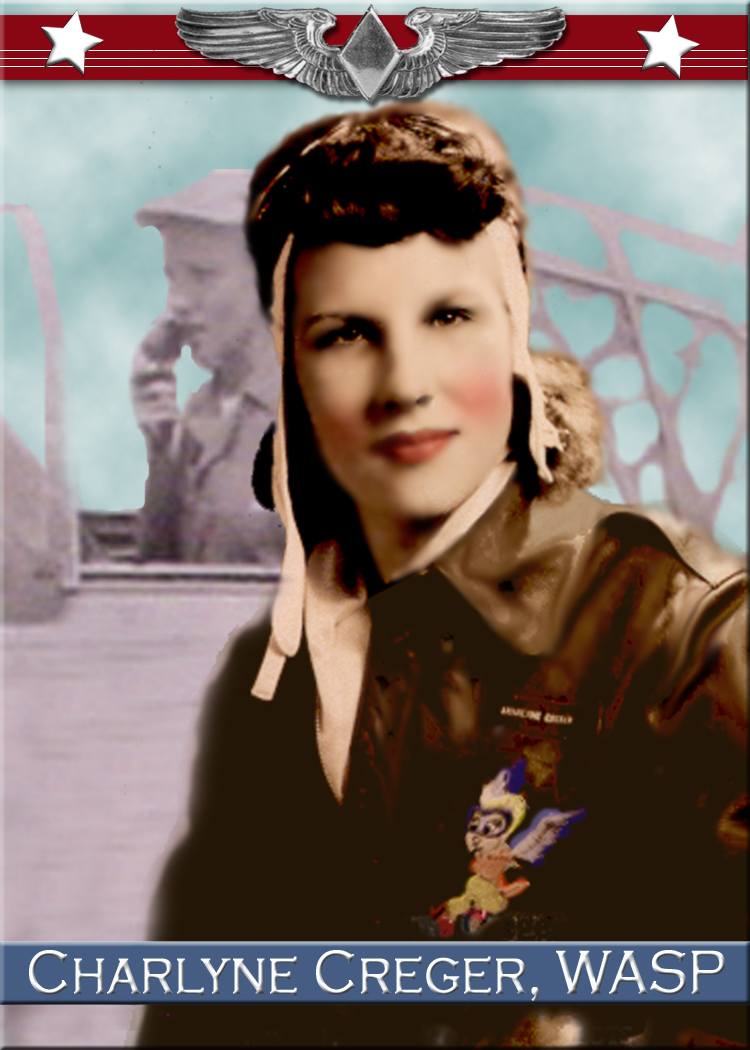 "How do I feel about being a WASP? Out of nothing, it made me something, because it gave me the courage to try anything!"
Just 2 years ago, Charlyne was inducted into the Daedalians, an elite group of military pilots. She was thrilled about this....because this very exclusive group had been started by Hap Arnold, Jimmy Doolittle and Billy Mitchell. Now, this is a very big deal, for the WASP to finally be recognized as veterans by this group of mostly male pilots! Plus, as Charlyne said, "it will look good in the obituary!" So will the fact that, in 2002, Charlyne was inducted into the Aviation Hall of Fame in her home state of Oklahoma!
She was proud of being born an Okie and she was proud of being from Louisiana. After knowing her for a few years, I decided that what she really was was a cross between a Cajan and an Oakie: a Cajokie. Course what she really was was one-of-a-kind.
She absolutely loved flowers, ice cream, George Bush and being a WASP...not necessarily in that order. She believed in prayer and had written enough of them to fill the front of her ice box --the prayers were for other people....some she had never met. She got special permission from the home where she lived to enlarge her garden. The winter pansies had been planted and were blooming. In fact, her gardener visited her in the hospital just a day before she died.

She loved people and she loved to tell stories. She was the most excited when she discovered a new audience of people who had never heard her tall tales. Ever since I've known her, Charlyne has made every conversation and every meeting a memory. Her unique perspective on the world always made me laugh: "I'm pantin' like a lizard on a hot rock!" or "I'm up to my a__ in alligators". I'm gonna miss her stories.
And, most of all, she loved being a WASP. Of all the things she did in her life, it was the one thing she was the most proud of. "Out of nothing, it made me something, because it gave me the courage to try anything!" and she loved Avenger Field. Nobody was more excited about building a museum in Sweetwater than Charlyne. Every Saturday, without fail, we would talk about the museum. "What's going on!" was the question, and, after I'd give her an update, "woooohhh wheeee!" was her response.
At one point in our friendship, she asked me if it were possible for HALF of her ashes to be scattered over Avenger Field and the other half to go to Arlington. I think she will be proud to know that all of her ashes are going to Arlington. I also think she will be proud to know that on Memorial Day weekend, 2005, at the first annual Avenger Field Memorial Day Flyin, the National WASP WWII Museum will have a missing man flyover in memory of all the WASP who are no longer with us, and one very special WASP named Charlyne Creger.
I produced a short video a few years ago--using clips from the WASP interviews. The short "soundbytes of the WASP" has been seen by well over 300,000 people in the last 3 years. Of the 17 WASP who appear in the short video, Charlyne is the only one who appears twice. Her description of growing up: "I'm so glad I was born when I was born. We had no toys but we worked our minds and made toys...we didn't even have an alarm clock, the old jackass across the street would bay every morning and woke us up!" And then, her final comment on being a WASP: "Well it was a rare group at a rare time that had something to offer and offered it....even if it meant they were offering their lives. It was that important."
No one who has ever met her could ever imagine the world without her...despite all the physical pain in her life, she seemed to be indestructible....and of all the words I can think of to describe Charlyne, down-to-earth, honest, funny, independent, generous, opinionated, feisty, unique, funny, colorful, big-hearted, courageous, spunky, cantankerous, extraordinary, larger-than-life, patriotic, my favorite is UNFORGETTABLE, because she is...absolutely unforgettable.
---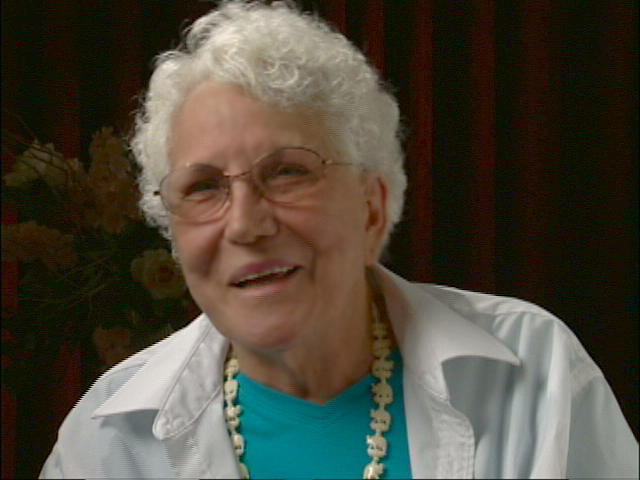 A memorial service will be held at the Forest Park Funeral Home, FRIDAY, JANUARY 7th at 11 am. 1201 Louisiana Avenue in Shreveport, LA. (318) 221-7181
Respectfully written by Nancy Parrish, daughter of a WASP and friend of Charlyne Creger.

In lieu of flowers and specifically requested by Charlyne, donations may be made in memory of Charlyne Creger to WASP MEMORIALS, National WASP WWII Museum. PO Box 456 Sweetwater, Texas 79556.
The Sweetwater Reporter, Jan. 6, 2004
Shreveport Times, Jan. 4, 2004
For a little more information on Charlyne, visit Ken Arnold's history page.