Delaware Aviation Hall of Fame picks 5
By EDWARD L. KENNEY, The News Journal Posted Thursday, June 14, 2007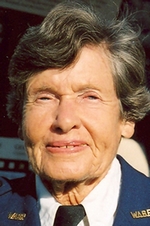 Five pilots -- three of them women -- have been elected to the Delaware Aviation Hall of Fame.
"They're all heroes, and they're all great from different points of view," hall trustee Hugh Horning said of the latest list of inductees, which was released Wednesday.
The pilots -- Virginia "Scotty" Gough of Bethany Beach; William F. Hutchison of Chadds Ford, Pa.; Elinor P. Smith, who is retired in California; Douglas W. Thompson of Dover, and Col. Carol A. Timmons of Rehoboth Beach -- will be inducted officially in October.
Tech Sgt. Benjamin Matwey, spokesman for the Delaware Air National Guard, knows two of the women and has read hundreds of aviation biographies. He said the three women's résumés present "out-of-the-park kind of stuff."
"We have our own Amelia Earhart equivalents here in Delaware," he said. "It's just amazing. I think their achievements are remarkable even outside of aviation."
Gough, who said she plans to celebrate her 85th birthday in October with a parachute jump, started flying in 1941 when she was 19. In 1944, she joined the Women Airforce Service Pilots organization (WASP), taking on one of its most dangerous tasks -- flight training. Along with fellow WASP and Delaware Aviation Hall of Fame inductee Ethel Meyer (Finley) of Rehoboth Beach, she established the WASP exhibit at the Air Mobility Command Museum at the Dover Air Force Base.
Hutchison, a retired brigadier general, served in the Delaware Air National Guard for more than three decades -- including as its air commander from 1972 to 1983 -- and flew combat missions in the Korean and Vietnam wars. He was awarded the Distinguished Flying Cross, multiple Air Medals and an Army Commendation Medal. He flew commercial jets for 8,000 hours.
Smith, selected U.S. Aviatrix of the Year in 1930, was a teen sensation. In 1926, at 15, she was the youngest female in the world to fly solo. In 1928, she flew under all four bridges spanning New York's East River, the only person ever to do so. Mayor Jimmy Walker pulled her license, but since it was signed by Orville Wright and because he was smitten by the youngster's charm, he limited the suspension to 10 days. She also served as the first female test pilot at the old Bellanca airfield in New Castle and flew demonstration flights for potential customers, including Earhart.
Thompson flew combat missions in World War II, Korea and Vietnam. He earned four Air Medals and 20 other decorations for service in the British Royal Air Force and U.S. Army Air Corps. He flew 26 missions over Europe, once pulling his B-24 out of a turbulence-induced spin over England, saving his aircraft, crew -- and mission. As an industrial and chemical engineer, he played a key role in development of space gear.
Timmons enlisted in the Delaware Air Guard after graduating from William Penn High School in 1976. But the military wasn't sure women should fly in combat, so she switched to the Delaware Army National Guard to fly helicopters. Determined to fly jets, she transferred to the Air Force Reserve, in which she could fly noncombat missions in C-141 transports. During Desert Storm in 1990 and 1991, Timmons flew in combat support operations in and out of Southwest Asia. When the Air Force decided to allow women to fly in combat, she returned to the Delaware Air National Guard, flying C-130s as the unit's first female pilot .
Hall of Fame President Harry Van Den Heuvel said the five new inductees bring membership in the hall to 49. A selection committee chooses about five of the most qualified aviators from a list of about 70 nominees each year.
Photo: Virginia "Scotty" Gough
For more information, visit the Web site at www.dahf.org .Contact Edward L. Kenney at 324-2891 or ekenney@delawareonline.com.
reprinted